Georgia
Svaneti Revisited (September 2014) - map
When I got an offer to go with a group of friends for a week again to Georgia, I did not hesitate too much. Caucasus Mountains are among the most pleasant I've visited, not only regarding the landscape but also for the proverbial hospitality of local people. I was also wondering how this former part of the Soviet Union develops and last but not least, I wanted to "rephotograph" my last trip there with a higher quality camera than I had with me in 2010.
Intro
We fly from Katowice in Poland with a small progressive company, which based its low-cost business on payments from passengers for their luggage. We, however, stick our bags together by food foil and Poles lose their money. We arrive in Kutaisi before dawn, even now it is hot as hell. Along with a few other sweaty fools, we get into the marshrutka and go directly to the centre of Svaneti, to the town of Mestia. I remember my first trip five years ago along the same road. At the time, it was foggy, between heavy clouds occasionally stepped out rocky peaks of the central Caucasus and along the broken dirt road we were bouncing almost ten hours. Today the sky is crystal clear, and the car goes almost ninety kph on the perfect road (in the scale of post-Soviet space). An entirely different atmosphere. In Mestia, which centre is unrecognizable rebuilt, we have an emotional discussion with local taxi Famiglia about the price for delivery to sixty kilometres distant Ushguli, the beginning of the planned hike.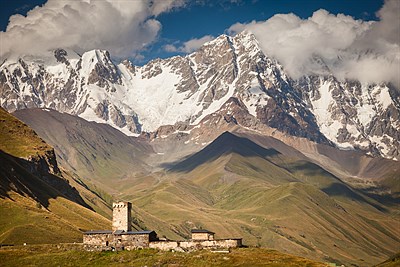 Usghuli
From Usghuli to Mestia
Ushguli is one of the most beautiful and romantic places I have visited. The highest-altitude village in the Caucasus, with its massive defensive towers under the highest peak in Georgia - Skhara. This place deserves to have a beer here. All we can do after that is to walk after the village and sleep almost immediately. Hot and sleepless night signed on us. I try to shoot magical light over Skhara. We start a multi-day hike back to Mestia over several passes without trails. The terrain is harsh, and often I have to hold grass with my hands to prevent the fall. Since the first day, we have a new company, a local black dog who decides to stay with us for some reason. He runs smoothly without a bag while we suffer.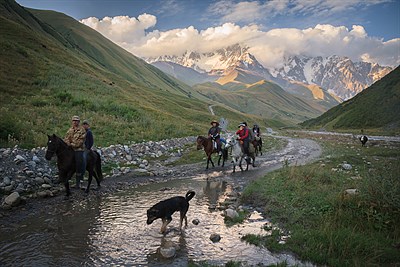 Usghuli
We cross gradually two ridges at an altitude of about 2,600 meters and pass two glacial valleys. Along the way, we do not encounter anyone. The progress through the terrain is slow and laborious, and the air is still very hot. The only person who gets on well is our dog. The evening and morning shooting is not particularly nice. However, the landscape is amazing.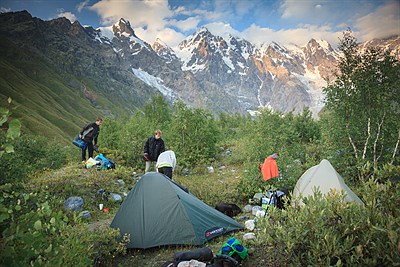 Campsite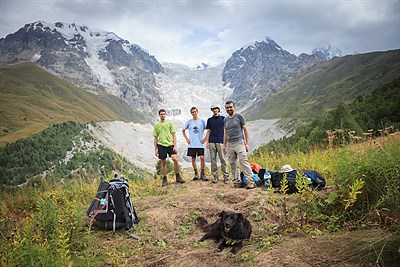 Adishi glacier
We wade the river before we come to the village of Adishi and proudly reject the offer of local herdsman to transport by a horse, on the other side of the stream we resuscitate our cold feet for an hour and continue to the village. The big storm is approaching, we can feel it in the air. On a relatively exposed hillside behind the village, it is at once apparent that the storm will catch us soon. I'm breaking my personal speed record of tent building, and after I close my zip, I hear the first hail striking. It seems that we got right to the core, we hear tens of enormously huge lightning cracking. I'm not quite well, and I start to pray chaotically to all the gods, which I can remember. The storm leaves after an hour, and as we come out of the tents, our faithful dog lies quietly a few meters away completely covered with ice.

Panorama of storm
In the village of Zhamushi, we buy an excellent Caucasian cheese. We plan to keep it until the end of the trek, but we eat it like animals a few meters after the village. The next way to Mestia follows the road, so we try to hitchhike. In a few minutes, we are lucky, but we annoy the dog because he does not fit into the car.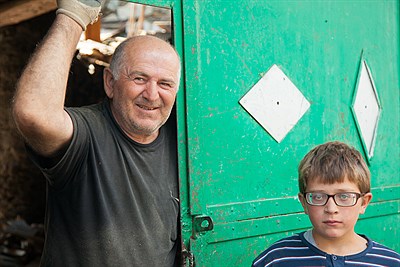 Cheese producers
Ushba
In Mestia, we plan to start another hike, around the foot of the Georgian Matterhorn, the Ushba mountain. Local taxi famiglia is stronger than us this time, and they keep demanding insane price for twenty kilometres transport. We try to hitchhike instead, and we are soon taken by a local guy who offers a free ride in case we accommodate in his house for the night. Along the way, we experience hot minute because our old man starts to drive like crazy together with some other driver on the road. They try to block each other on the narrow road in insane speed. Their activity is very scary and mysterious as well. Finally, they stop and start fighting with their hands. The other guy is completely drunk. Ex-post we learn that one of them a few days ago publicly insulted the brother of the other by slapping him in a pub. Such an event led to a murdering of the whole family in the past centuries. Today, a small hand combat is enough. Even in the hot Caucasus, people get cooler. Accommodation in Mazeri village is great, dinner excellent and all at a reasonable price. In the evening, there is a gorgeous sunset, which we spend in a deep valley, with no possibility of good composition.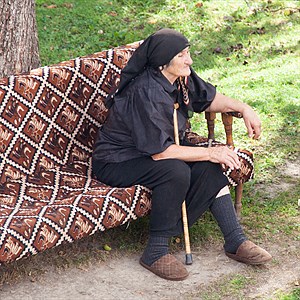 Grandma
We spend another hot day by building dams made of stones and twigs on the local river. I would like to be on the ridge on the way to Mestia this evening, as this is my last opportunity to shoot during the sunset. Thus, I spur on the group to a higher tempo. We ascend like doping kings, but the saddle is not getting closer. In the end, we find out that the place is about 500 metres higher according to our GPS than our map shows. Both sunset and sunrise are not quite excellent because there a lot of haze in the air, thanks to high temperature. Even so, the view of a sharp peak of Ushba is fantastic. We descend again into Mestia by steep and demanding path. In the city centre, we meet again our dog, which we left ten kilometres elsewhere three days ago. He looks rather reproachfully. We try to get on well with him by giving him a piece of meat, but the dog gets just more upset when he sees that we enter into the marshrutka again to go back to Kutaisi.
Going up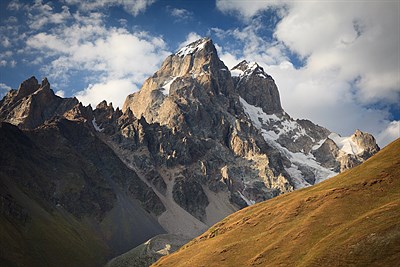 Ushba
Last day I wait alone - the guys continue to Armenia - at the airport in the terrible heat. In the evening, I go to a nearby Kutaisi for on a piece of cud and chat with a local taxi driver. It seems that all taxi drivers from the former Soviet Union, I met, served in the army that occupied our country in 1968, and they are proud of it. My second visit to Svaneti was a rather mild disappointment. Firstly, I missed the perfect light for photography, but also, I could see a significant shift towards the modern civilization of this remotest area of the entire Caucasus region, which of course raises local living standards, but also brings a broad range of problems, from plowed mountain slopes to increasing differences among people. The incredible Caucasian hospitality that I experienced five years ago disappears quickly, but this is quite understandable when you see the invasion of wealthier western tourists. Even so, Svaneti remains justifiably one of the most beautiful and exciting areas for trekking in Europe.
More in gallery